About Le Creuset
THE STORY OF A TRUE ORIGINAL
Since 1925, Le Creuset has been renowned as the colorful French companion in kitchens across the globe. Defined by three essential truths, Les Trois Vérités, we're more than just cookware. As the first, finest and favorite, we're honored to share in the meals, memories and traditions made by food lovers around the world.
When Le Creuset was founded in 1925, most cookware was utilitarian in nature — and a dull gray or black in color. Armand Desaegher, a casting specialist, and Octave Aubecq, an enameling expert, saw an opportunity in the sea of gray. The two French artisans perfected a glazing process that coated cast iron in a layer of premium colorful enamel. More functional, more versatile, and decidedly more beautiful, the result was an entirely new way of thinking about cookware — an innovation that would come to define Le Creuset.
That same year, Desaegher and Aubecq opened the first Le Creuset foundry in Fresnoy-le-Grand, a small town in northern France. There they cast and enameled their first cast iron cocotte, or Dutch oven. The careful craftsmanship of their first Dutch oven laid the foundation of quality that would later support Le Creuset's full range of premium cookware and kitchen accessories. But it was their groundbreaking ability to pigment hard-wearing, easy-cleaning enamel glaze that sparked Le Creuset's extraordinary early success.
Appropriately, Le Creuset's first enamel color, "Volcanique" (today's "Flame"), was inspired by the intense, glowing orange hue of molten cast iron in the foundry's cauldron ("creuset" in French). As the molten cast iron cooled and hardened, the color tones deepened, creating an expressive range of color reflected in Le Creuset's signature ombre color gradient. This vibrant orange commanded attention and, coupled with the cookware's exceptional performance, became the hallmark of superior enameled cast iron trusted by cooks everywhere.
A new, modern culinary era was emerging, and Le Creuset—with its focus on functional beauty and passion for heirloom-quality cookware—was an early voice for the joy of preparing and sharing meals.
In the years that followed, Le Creuset continued to focus on premium design and quality. The operation expanded, growing in both product range and global reach. Over the decades, the brand opened sales and manufacturing operations around the world, including a United States subsidiary in 1976.
Today, Le Creuset has grown into a beloved international brand with a product range that spans various categories, including cast iron, stainless steel, stoneware, nonstick, dinnerware and more. Ever committed to innovation and design, our processes have been modernized, but our attention to the finest quality and craftsmanship continues to define us. Le Creuset prizes the rich heritage of hand-craftsmanship, and our original foundry in Fresnoy-le-Grand still produces every piece of our acclaimed cast iron.
Le Creuset revolutionized cooking almost a century ago with the very first colorful cast iron. The empowering joy that our vibrant cookware first brought into kitchens is now shared from generation to generation, in kitchens and around tables all over the world.
Subheading
Heading
Use this text to share information about your brand with your customers. Describe a product, share announcements, or welcome customers to your store.
Subheading
Image with text
Use this text to share information about your brand with your customers. Describe a product, share announcements, or welcome customers to your store.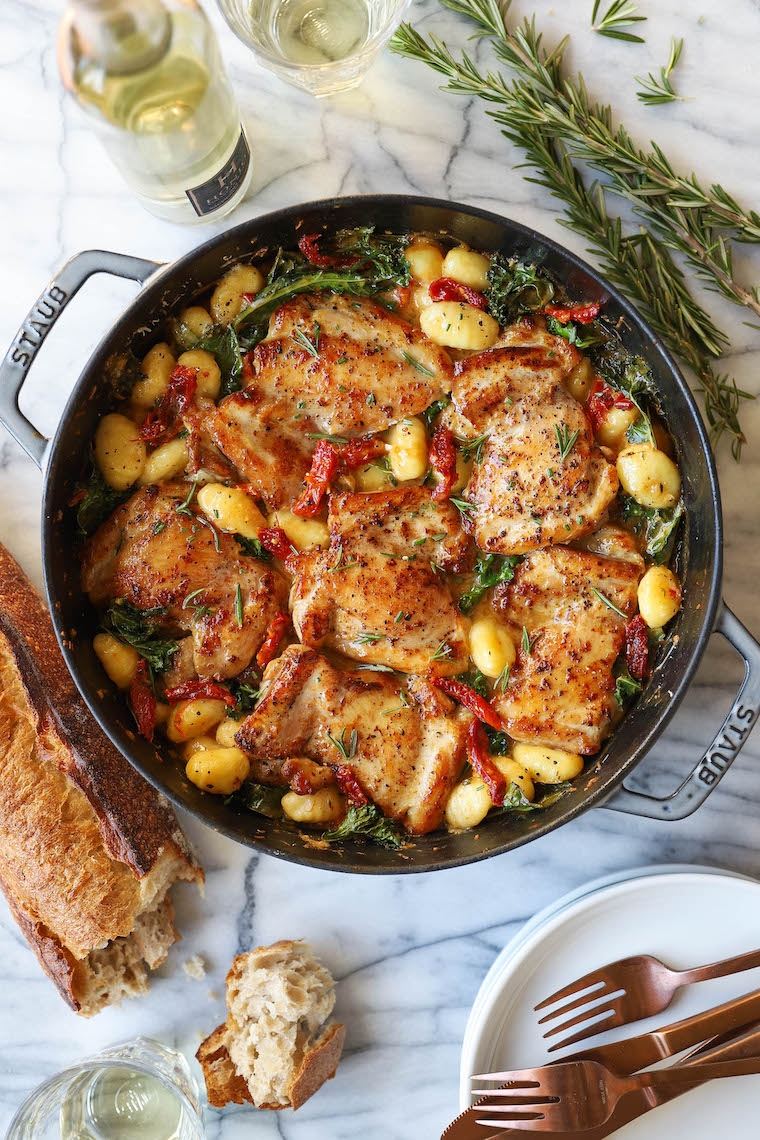 SUN DRIED TOMATO CHICKEN AND GNOCCHI
Tender, juicy chicken thighs in an AMAZING garlicky sun dried tomato cream sauce. So simple, so good. My kind of comfort meal. Wine, soft-pillowy gnocchi, juicy chicken thighs, and a light, garli...
Read more