Article: Beet and Burrata Salad with Fried Bread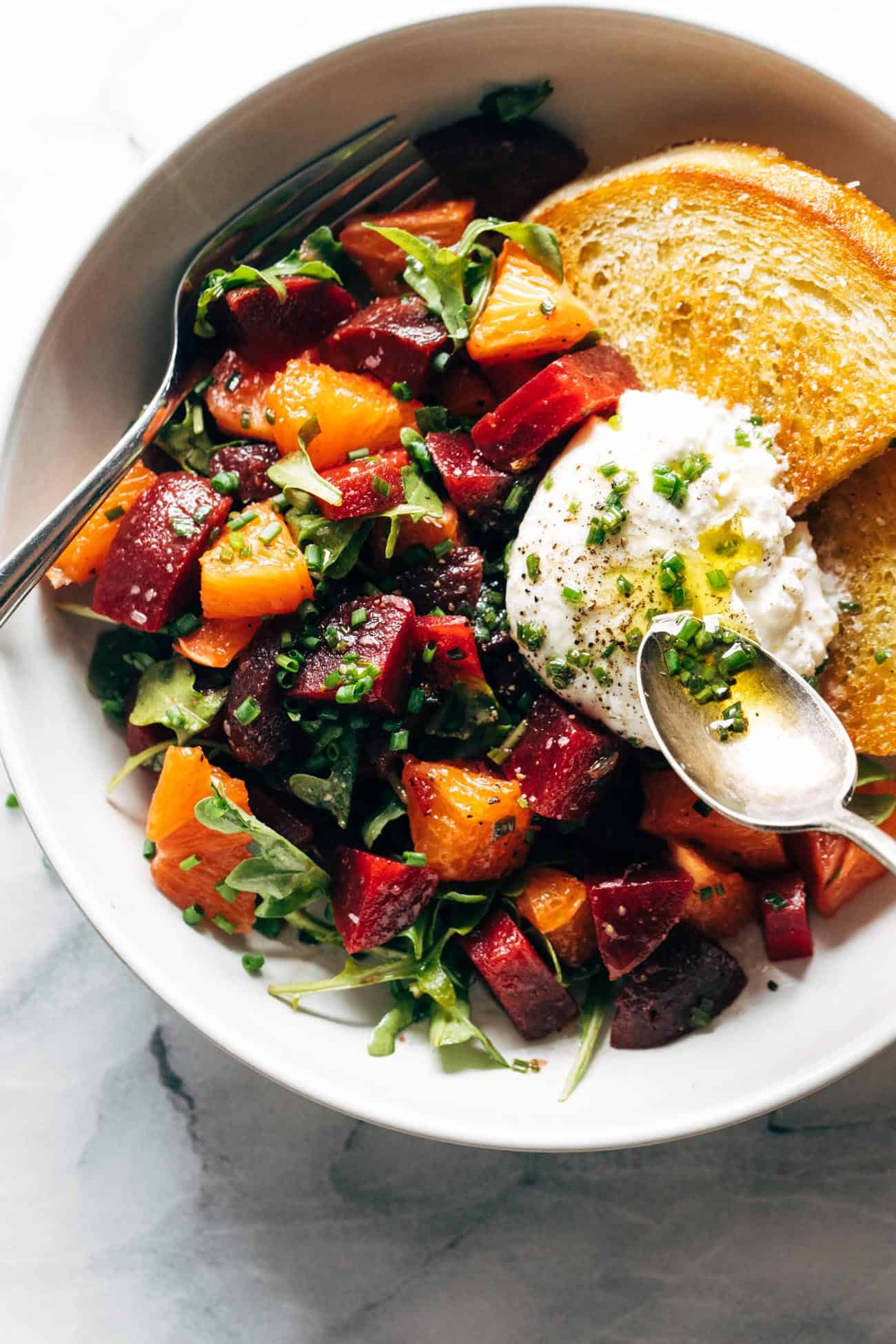 Beet and Burrata Salad with Fried Bread
What You'll Need For This Beet and Burrata Salad
Here's our short and wonderful ingredient list:
pre-cooked beets
oranges
arugula
dressing (homemade or your favorite store-bought)
bread (sourdoooough)
burrata
Calling this bowl of beauty "a salad" feels not quite right, because if we're being honest, salads leave a little to be desired sometimes.
But this salad – or maybe I should say, this big bowl of fried bread, juicy beets and oranges, quick vinaigrette, and creamy, luscious burrata – leaves exactly nothing be desired. The golden crispy-salty bites of the bread with the cool creaminess of the burrata and every juicy, vibrant, dressing-soaked bite of beets and oranges – it's the total package. It's a partial fork-and-knife, partial just-get-in-there-and-grab-that-bread-with-your-hands type of meal, which is my favorite kind.
New life rule: salads always need fried bread.
This Salad Makes For Great Leftovers Or Meal Prep
Some words on leftovers (or mainly just one word): YES, you can eat this as leftovers.
For max freshness, keep everything separate until you serve it.
But for the little bits of leftovers that are already mixed up, I find that the beets and the oranges hold up pretty well after they get tossed with the dressing – maybe 1-2 days. The arugula, as you can imagine, does not. So if you're going to save leftovers, just freshen them up with a more perky handful of arugula.
The fried bread actually does pretty well if you just keep it in a container at room temp for a day or two and pop it back in the toaster / toaster oven / regular oven / skillet to get it warmed and a little crispy again. But really, any of those is going to be a sad stand-in for the real fresh fried bread. I know you don't really need me to tell you, but where possibly, eat that fried bread right out of the pan.